We are always on our phones or other mobile devices, jumping from one app to another. There is an app for virtually anything!
As more people connect online, app usage increases tremendously. As a result, stores like the Apple App Store and Google play report the presence of millions of apps every year.
In the first quarter of 2020, there are 2.56 million available apps in Google Play and 1.85 million available for iOS according to Statista.
Image Credit: https://citrusbits.com/how-does-a-mobile-app-gain-popularity/
Creating an app isn't easy.
Here are some prerequisites to the app creation process:
A budget with which the app will be created
Good understanding of the target audience and what they want
A blueprint or visual map of how the app is going to function and look
Ample amount of time and dedication to the process
After creating an app, uploading it to an app store like Apple App Store gives you access to millions of users. The app needs to stand out amongst the million others present as well.
How to publish an iOS App on the Apple App Store?
Here are the steps:
1. Apply for the Apple Developer Program
As per Apple's App Store review guidelines in 2018, all app content owners must publish their apps under their Apple Developer Account.
Image Credit: https://blog.4d.com/wp-content/uploads/2018/07/Apple-Developer-Program-4D-for-iOS.png
Before enrolling for the program, you need to have a few things ready:
You will need an Apple ID with two-factor authentication:
This adds an extra level of security to your account by making sure that no one can access it, even with the password known.
When you sign in, you will be asked to submit a phone number, address, and legal name. Make sure you fill in these details correctly to avoid problems in the future. These details are required by individuals or single-person businesses.
If you are enrolling as an organization
If you are enrolling as an organization you require an account with two-factor authentication turned on along with other details. These details include:
A D-U-N-S or Dun & Bradstreet Number to check and verify the organization's identity. This is a unique nine-digit number used as a business identifier. You can request one if you don't have one.
Your company must have a legal entity status to enter a contract with Apple. Trade names, branches, fake businesses, or DBAs are not accepted.
You must have the legal authority to bind the company with legal agreements. Either the owner, senior project lead, executive team member or other employees with legal authority can apply.
You must have an active website with a domain name associated with the organization.
2. Prepare and submit your application
Once you've enrolled in the program, you must begin working on your application. When it comes preparing your app-
"You need to commit. You need to commit to spending the money, gathering the data, and changing the acquisition plan accordingly." – Benjamin Hansz, Fiksu
When submitting the application, make sure it follows the Review Guidelines uploaded by Apple. Some key points highlighted include:
Making sure the app is bug-free
Runs smoothly,
Contains all the correct information,
Allows backend review.
It is important to note that Apple cares about the safety of its users. It will reject those apps which disrespect the users and provide a bad experience overall. This is done at their discretion.
According to Mediakix, Apple paid $26.5 billion to iOS developers in 2017. In 2018, more than 81% of iOS users had the latest software installed on their devices.
Apple advises developers to create apps that will change and improve with time.
You need to register your Apple ID and create a distribution certificate. Check whether your account already has one before doing so. Don't hesitate to use the various developer resources available in the account.
Next, you need to provision your app. These profiles are needed by Apple to install apps on devices. After doing so, set an app-specific password for added security.
Image Credit: https://9to5mac.com/wp-content/uploads/sites/6/2018/09/appsize.png?w=1600
3. Create a listing on Apple store with the help of Apple Store Connect
Apple Store Connect prepares the app store listing. It is the place where you can submit and monitor the progress of your app.
If you are going to sell your app, you need to enter your tax and banking details. You will also need to sign the Paid Applications agreement and submit relevant data.
Next, you can add and assign roles to users. This is done by adding their names and email addresses. You can give access to other users to help with the development and uploading.
Being a builder of the app, you have to upload information like app icons and version number. Add descriptions and keywords relevant to the app and add multiple builds. Create an app record and prepare the app for delivery.
Before making your app available on the App Store, distribute the app for testing. This is done using the TestFlight beta testing (iOS, tvOS, watchOS) feature. You have the option to add and invite internal and external testers.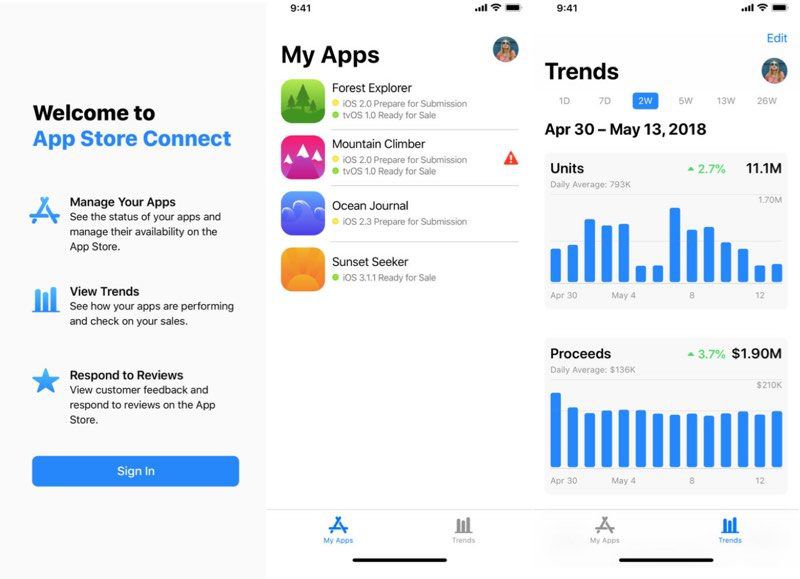 Image Credit: https://www.macrumors.com/2018/06/04/apple-launches-app-store-connect-app/
4. Making App screenshots
Screenshots and previews communicate the experience of using the app. These will be displayed on the product page of the App Store. Every device has a different screenshot requirement.
If the app is the same across all devices, simply upload a high-resolution screenshot for each device.
For iPhones, the default screenshots are required for 6.5 inch iPhone Xs Max and 5.5-inch devices. These will be scaled down for smaller devices.
For example:
Image Credit: https://www.macstories.net/stories/personal-app-store-stories-from-the-macstories-team/
For iPad screenshots for 12.9-inch devices are required. Again, these will be scaled down based on the size of the device.
Screenshots are the main sources of marketing. They must be taken with utmost care and consideration, especially if you're the face of the business.
There are several apps and software available for taking and creating such screenshots. Make sure that each one represents every aspect of the app accurately.
Additional screenshots are required for apps using the Messages framework or WatchKit as well as tvOS apps.
Upload the screenshots to the App Store using one of the two ways.
The first way is to upload them on the platform section of the App Store Connect page.
The other way is to use a Transporter XML feed to deliver them in batches.
Check out the App Metadata Specification and transporter User Guide to know more.
5. Connect with Xcode and upload application to the Apple Store
Xcode is a tool available in the Apple Developer program that lets you create beautiful apps and make them accessible across all devices.
These tools take advantage of user-interface frameworks to create a better experience with less code.
Image Credit: https://codewithchris.com/xcode-tutorial/
Connecting with Xcode makes your app available across all Apple devices, creating an integrated experience. It contains a live mode that lets you interact with the app while it is live in the Xcode.
Here is what you do:
Open the project in Xcode.
Make sure the version is updated and click on all the required settings.
Open code signing and use the provisioning profile and code signing identity created earlier.
Select Generic iOS Device as the build destination and archive if necessary.
When you're ready to upload, click distribute.
Sign in with your developer account and submit to the app store.
6. Make the submission to receive app reviews.
When you submit the app it goes to App Review. On Apple Store Connect, you can view the status of the app in review and also monitor the analytics. Here is how the process takes place:
The confirmation process takes around 2-3 days.
You can select the release type before submitting it for review.
The manual release type allows you to click the release button after approval.
The automatic release will upload the app as soon as it is approved.
If the app isn't approved, check the notes in the Resolution Center. Using this, make the necessary changes to the app and resubmit the same.
Apple Store Connect keeps track of sales and trends relevant to the app. Read all of the customer reviews and feedback using this profile.
 Note that Apple actively updates its Review Guidelines for apps, so be on the lookout. Make sure you have checked everything thoroughly before you move forward. Mistakes can unnecessarily delay the process.
The Apple App Store is one of the world's leading app providers. Getting your app on this kind of platform can do wonders for your business. It will give you more visibility and profits.
According to MacFly Pro, 70% of Apple users say they are addicted to their devices. 25% of users say they bought the products because their friends use them.
Most users believe Apple provides higher quality devices and apps.
As a business, it is necessary that you capitalize on this popularity. Apple is popularly used because of the seamless experience it provides. They are particular about the apps they allow on their platforms.
Conclusion
So, when uploading an app, make sure it is up to Apple's standards. If your app provides great service and scope for growth, you have got nothing to worry about!